Chrome just released a collaboration collection with Antihero centering on John Cardiel's signature bag Fortnight. To commemorate the release, we caught up with the man himself.
──JOHN CARDIEL (ENGLISH)
2018.04.17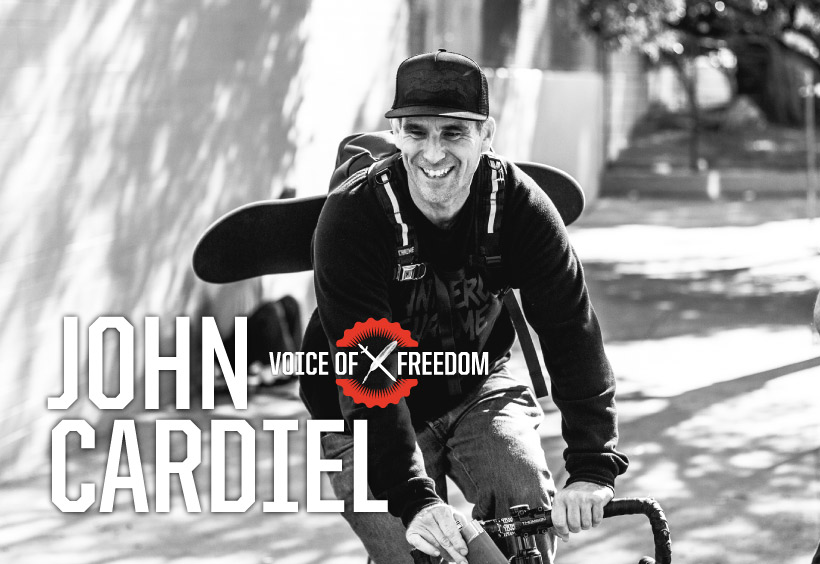 [ JAPANESE / ENGLISH ]
Interview by VHSMAG, Special thanks: Chrome Industries Japan
VHSMAG (V): How did the Antihero x Chrome collaboration collection come about?
John Cardiel (C): I remember having a conversation with Chrome Japan asking me if they thought it was possible to do a collaboration with the 18. At that moment it just made perfect sense so we rolled with it and it turned out dope!
V: Tell us about the bag.
C: It's a super tough bag that has a leather bottom with an embossed logo that Matt Reyes's a.k.a. Slumworm helped create over at Chrome. There's a super high visible waterproofing tarp on the inside so you can see what you're looking for on the inside of the bag.
V: Who came up with the color? Why green and orange?
C: I came up with the colorway because I like camping and so does the Antihero team. I also like bags that withstand long term abuse and the oranges for high visibility when looking inside the bag for items. The green helps when stashing the bag in the bushes when traveling while you're skating or biking.
Basically it was all about having a good time when you're out camping with your friends.
V: Tell us about the Field Survival Kit that comes with the bag (slingshot, tourniquet, survival guide, patch and sticker set). What inspired you to make the kit?
C: Basically it was all about having a good time when you're out camping with your friends. You can use the slingshot to kill time shooting rocks at cans and stuff, also it's always nice to have a pad of paper and a pen in your bag to write directions and draw maps and the tourniquet can also be used for a number of applications from stopping bleeding to filtering water, and the skateboard speaks for itself.
V: Who's responsible for the artwork for the deck, tee and tourniquet?
C: My man Vince at Chrome HQ in Portland. He rips at skating and also rips at drawing so he hooked it up! I love all of the graphics. They all have the vibes of camping fire and living free.
V: The promo video was nice. Who came up with the idea?
C: Basically it was my idea but I couldn't have done it without everybody that was involved so it was a combined effort with all of our friends. We had a great time creating it that day and new friendships were born, that's everything to me!
V: Any behind the scene story from the video shoot? I was surprised that Julien was in it kind of acting, which I was super stoked on.
C: Ha haaa! Yeah, no doubt. That was super cool. I was stoked Julien was into it. He has been a longtime supporter of Chrome and I. We were hyped to get the support of him and the rest of the team for this collaboration, it was a total group effort. Basically it's just a fun story of Matt Reyes hitting me up for a new board because he broke his and the story was about how I get the board to him using the backpack and all of its survival tools via Julien, Andy and Frank, and getting super lost in the meantime in San Francisco, a city that I know all too well. Gabe Morford directed it. He's been a longtime supporter of the fixed gear culture through MASH SF and also a major photographer in the skateboarding world. And also the very talented filmer by the name of Jeremy McNamara who has been filming and making videos for Deluxe for over five years now, he did a great job!
V: I heard that the video was supposed to be film it at Burnside?
C: Basically It was just the middle of winter and was really cold and raining up there. It was just a matter of bad timing on our part. We decided it would be better to try to work something out in San Francisco where it was warmer and dryer.
Antihero x Chrome promo video.
V: What's the best thing about the bag?
C: The bag itself and the fact it has Antihero and Chrome branded into the leather, my two favorite companies and two very strong iconic logos.
V: Since the bag is called the Fortnight, if you go out on the road for two weeks, what are the things you want to have in your bag?
C: A metal water bottle for boiling water, a spare pair of pants, shirts and shorts, phone charger, a slingshot, a tourniquet, an extra skateboard, a notebook and some strong tea!
V: What's the best thing about working with Chrome?
C: The ability to make indestructible and very versatile bags for traveling and every day hard use!
V: What have you been up to lately?
C: We just threw an awesome skate contest at Lower Bob's DIY skatepark in Oakland. Seeing Raney Beres win was so sick. It was just a big fun day at Lower Bob's with lots of really good skating and hanging out with friends, also riding bikes and DJing reggae music.
V: Any project you're working on?
C: Lots of projects in the works but I don't want to spoil any of them. I can tell you that The Far East Rulers could be involved...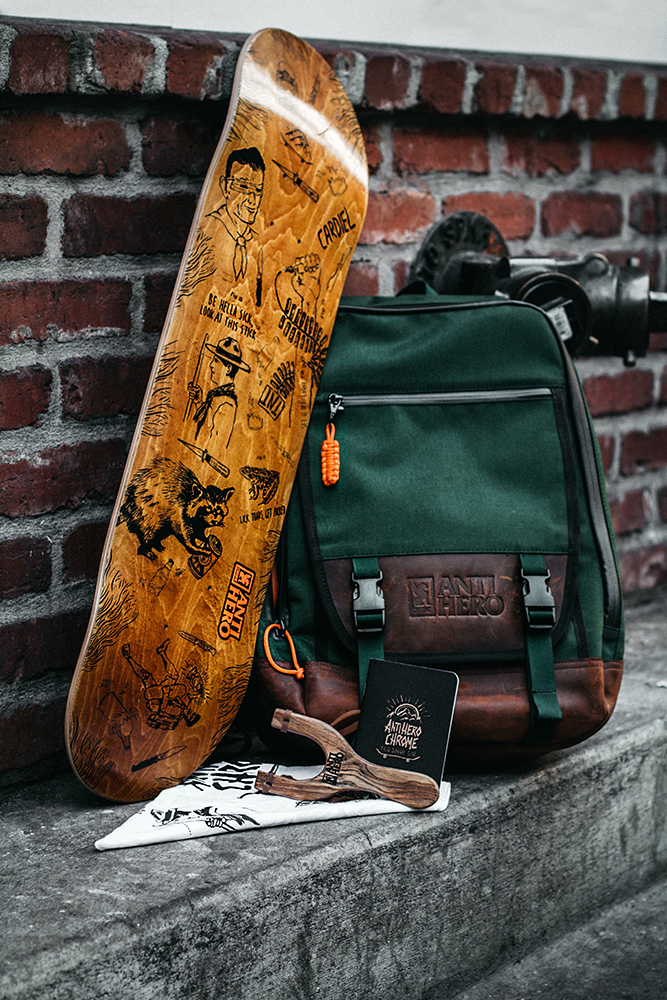 The day in the life with John Cardiel.
John Cardiel's Guest Talk.
John Cardiel
www.chromeindustries.jp
Known for the aggressive and super fast skating. After his tragic accident in 2003, he's currently active as track bike rider and reggae selector gaining worldwide respect. He rides for both for Chrome and Antihero.