ABOUT HIS NEW PRO SHOE AND EVOLUTION OF MODERN SKATING
──NYJAH HUSTON (ENGLISH)
2014.07.30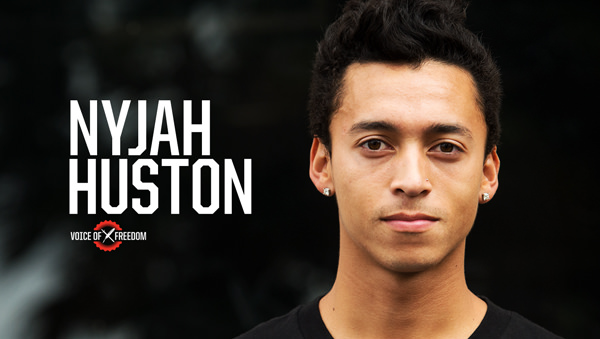 To commemorate DC's 20th anniversary and the release of Nyjah Vulc, we had a chance to interview Nyjah Huston. We asked questions about his new signature shoes and the evolution of modern skateboarding.
Interview by VHSMAG Photos courtesy of DC

VHSMAG(V): It's DC's 20th anniversary this year and the theme is Defy Convention. How has DC defied convention in the last 20 years and how have you defied convention in skateboarding today?
Nyjah Huston(N): I think DC has definitely helped pushed the progression of a lot of sports out there but especially skateboarding. I mean, everyone from Danny Way to Chris Cole to Mike Mo, all those guys are absolutely amazing and they help push the sport every single day especially with all the video parts and all the gnarly tricks they've done. It's awesome. I'm always trying to push the progression of skateboarding and really just get better at it myself, that's my goal every time I go out and skateboard, I just try to learn new tricks and get better.
V: What's the best thing about the Nyjah Vulc? What have you worked on to make it better than your previous model?
N: My favorite part about the new Nyjah Vulc is it's just a good balance between a chill shoe and a skate shoe, you know? It's a shoe you can just walk around in and it's super comfortable and also it has a vulcanized sole for a really good board feel, and at the same time there's impact S insole, and it protects your feet and that's a good thing.
V: The Nyjah Vulc commercials are unique. How were the shoots?
N: Shooting the commercials was really fun. Chris Ray is always super fun to film with and I was stoked with all the ideas with the different colors and different lifestyle stuff and it was a really fun time. The little pool party thing at my house was really cool and the one shooting with my dog was really fun also.
V: Do you have any ideas of what kind of shoes you'd like to produce with DC in the future?
N: Yeah, we're working on some stuff actually right now for the near future. I can't talk about it yet but it'll be out soon.
V: Are you aiming for SOTY this year? What happened last year and what's your view on the controversy that you should have won?
N: SOTY is always something that I would be stoked to win but then again I'm only 19 years old and I think I have plenty of years down the road that I can actually aim to try to get it and then again at the same time I don't think it should be something that you're trying for so hard throughout the year. I think some year's people just have better years at skateboarding than others and I wasn't bummed that I didn't get it at all. I think Ishod absolutely killed it and I have some other years to go for it.
V: Shooting in the streets and skating at contests…does your mindset change? How do you look at street skating and contests differently?
N: Street skating and contest skating are two completely different things but both of them are super important to me. Obviously I love skating in contests. It's super fun skating all of those awesome courses, especially Street League. I'm a competitive person so I have a lot of fun, but then again skating in the streets… that's the best part of skating. You go out and just the fact that you're skating obstacles that aren't actually meant for skating is the best part. You just get to go out with all your friends and have a good time and shred.
V: Are there any particular tricks that you struggle with?
N: Yes, absolutely. I struggle with varial heelflips, frontside flips. Mainly those two.
V: Is there anything you do to prepare before you skate something super big to make yourself feel comfortable?
N: Before I skate something super big, I just make sure that I get a good warm up session in and get the legs going, and whatever trick I'm going to do just make sure I go to a skate park or a smaller rail or whatever the obstacle is before and make sure I just practice that trick and feel confident before I do it.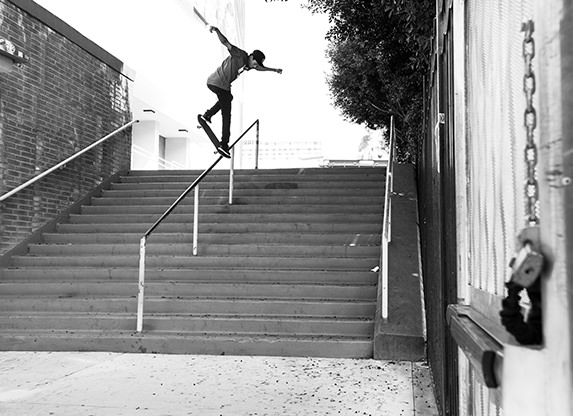 V: It seems skating is getting super big and more technical for you than ever. Where do you see skateboarding headed and how would you keep the evolution of skateboarding going?
N: Yeah, skateboarding has definitely gotten very technical lately. It's going to be interesting to see where it goes in the future. I feel like it can only get so technical and people can only go so big, but we'll see. I think skateboarding is going in a good direction and it's sick to see how much the progression has changed in the past few years.
V: Any projects you're currently working on? What's lined up for you in the near future?
N: No projects that are specific right now. Just been out street skating and filming like I always do and concentrating on this year's contest season, but hopefully I'll be putting out a new part soon.
Nyjah Huston
Won countless contests and helped push skateboarding with unbelievable hammer tricks. Fade to Black, an online video part released in the end of 2013 became a big news throughout the world, and he just released his newest signature shoe, Nyjah Vulc.
@nyjah