In the time where retail shops are suffering from economic slump, Prime Skateboard Store has been doing well and entering their third year. We sat with Shintaro Kanai, who has pushed the envelope and came up with rotating board display and Builder System, paving the way to making Prime one of the most popular skate shops in Japan.
──PRIME SKATEBOARD STORE (ENGLISH)
2017.10.31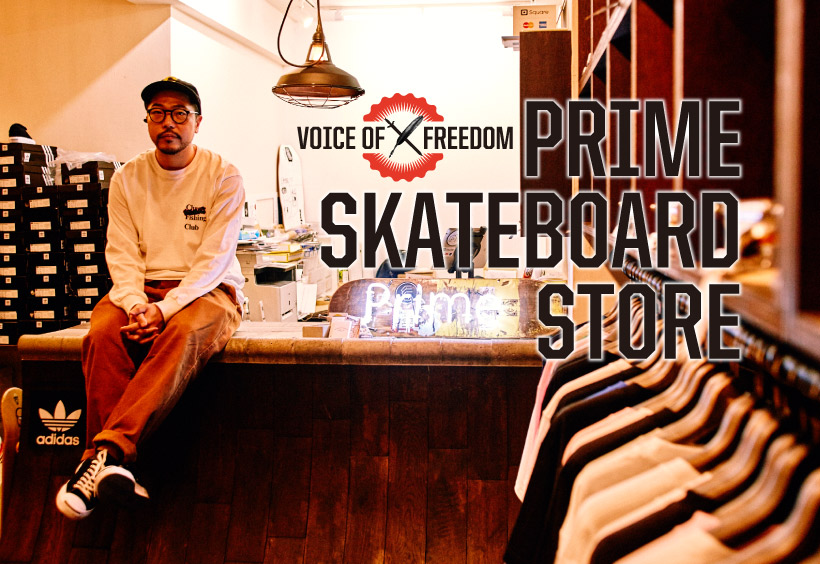 [JAPANESE / ENGLISH]
Interview by VHSMAG, Photos by Junpei Ishikawa
VHSMAG (V): When and what made you open a skate shop in Kanda?
PRIME SKATEBOARD STORE (P): I opened the shop back in 2015 and most of the skate shops in Tokyo were in Shibuya and Harajuku area. You can find skaters in every area of Tokyo but you needed to go to Shibuya or online to buy skate gear. Considering Shibuya is west Tokyo, the place where I opened the shop called Kanda is in east Tokyo. There are tons of good skate spots around here but no skate shop. I'm from east Tokyo and I wondered why there were no shops in the area. So I wanted to open one near Tokyo station. Also it was right before when skateboarding became an Olympic sport and it was a great opportunity to increase skater population, but all the skate shops were kind of scary to go in for non-skaters. I wanted to change that and do my best to introduce skateboarding to non-skaters without giving any kind of stress.
V: Is there anything you kept in mind when working on the interior?
P: The shop in on the second floor so I wanted to show pedestrians what the shop is about by just looking at the window. To do so, showing boards was the best idea so I displayed the whole window with boards. After the shop is closed, the board rack could be rotated to show the board graphics to the people outside. I think this is the world's first rotating board rack. Other than that, I thought about interior considering customers taking Instagram photos.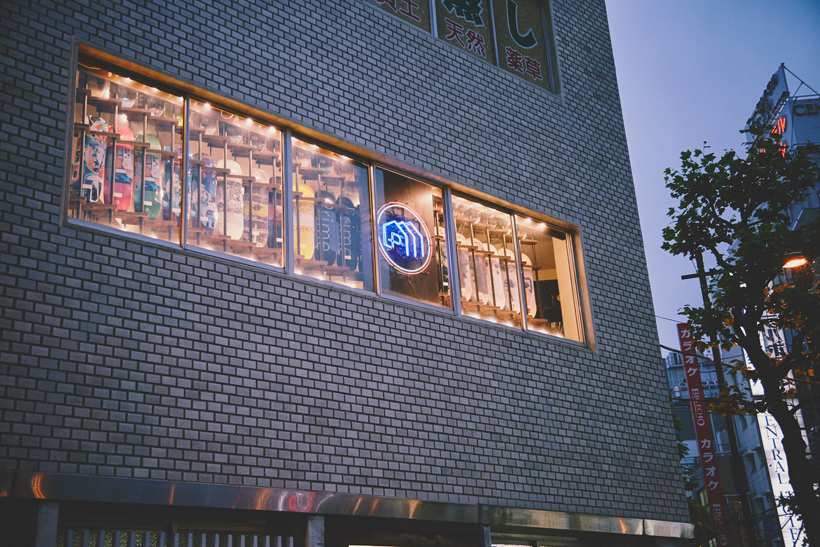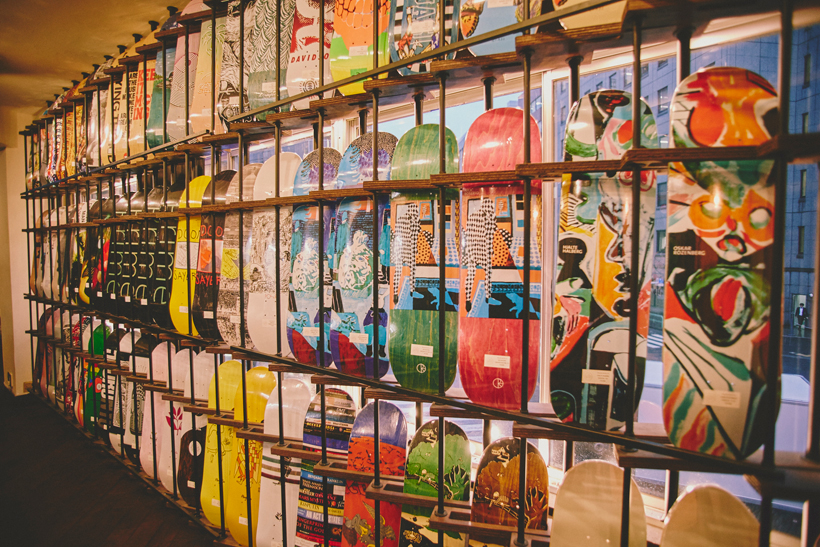 V: One of the appeals of Prime is the online site. Why did you give a lot of weight on online?
P: People who can't come to the shop have to go online. Beginners don't know where to start when purchasing a skateboard. At a skate shop where I used to work before, I would start my day by replying to emails asking "How should I choose skateboard gear?" So I thought it would be best if I had a website that explains how to choose a skateboard. Customers come to the website because they want to buy a board, so they can start by looking at a page called "How to start skateboarding." They can find everything they need to know about a skateboard. Boards, trucks, wheels, bearings... After showing what all the parts are about, they proceed to this system called Builder, where they can choose all the right sized trucks and wheels just by choosing a board. I was planning on making this system about a year prior to opening Prime.


V: How do people like the Builder System?
P: It's doing very well. The inquiry asking "How should I choose a skateboard?" has decreased to 1/20 compared to my former job. People would come and tell my that they had watched our videos and website. I no longer have to explain from scratch. They know that they want Indy trucks or Spitfire wheels; they've done their homework so things have gotten smoother than before.
We've sold over 2000 completes in this two years period.
V: It's been two years since you opened Prime. How do you feel looking back?
P: We've sold over 2000 completes in this two years period. I'm surprised with this. I used to post Instagram photo every time a complete was sold, but I can't keep up now. The number of completes sold equals the number of people that started skating, so I'm flattered. Basically about three completes are sold per day.
V: Do you think that has something to do with the Olympics?
P: For sure, the Olympics has a great effect. In fact, completes are selling well and I see more skaters in the street. People see those skaters and I think they're wanting to start skating. But I think they're hesitating to go to skate shops because it take guts to go to those authentic shops...
V: How do you find all the domestic small brands like Chaos Fishing Club and Tenbox?
P: There were times when domestic brands didn't do well and all of them slowed down, but 70% of our apparel sales is domestic brands. Even the brand was unknown at first, I would hang out with the person making it and promote it in our own way. If the brand is good, it'll do well. I'm just making this initial trigger. It's not like I find them; it's more like let's make it together. I personally think Chaos Fishing Club and Tenbox are the top domestic brands that go beyond skateboarding.
V: So you're conveying their value to the customers.
P: Exactly. I can't push brands to customers if I don't have love toward them. That's why we only carry and push brands that I really like.
We only use Generator boards because they're the best in the world.
V: Could you talk about Prime's original boards that you release periodically?
P: I think shop boards don't sell well in Japan. I wondered why and I realized that I'd never skated one before. So what I kept in mind was the quality of the board. We only use Generator boards because they're the best in the world. Design is an important element so it had to be something that everyone could tell from distance. The design has to be easy to spot even the image of the board was used really small in the Internet. I guess that worked and our shop boards are doing well. They get sold out every time and we even get preorders.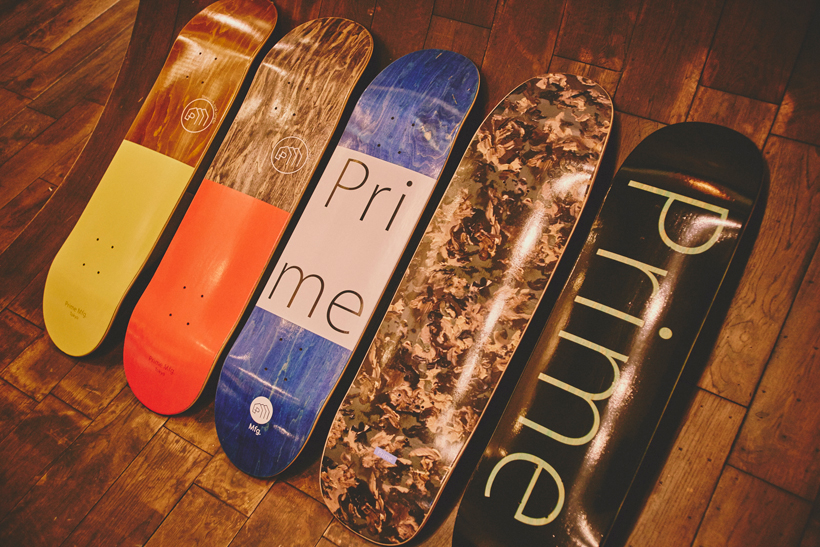 V: Prime has been featured in various media. I think that's rare for a skate shop.
P: To tell you the truth, I've only got featured in street magazine like Ollie only once. Most of the media that I get coverage is fashion magazine. Skate apparel were only sold at skate shops but I guess fashion people didn't like to go to skate shops. I think the reason why I get coverage in fashion magazine is because Prime is a friendly place to go to, not only for skaters but in general. So the targeted customer is totally different from the skate shop that I used to work at. Our customers are from mid 20s to the 40s. Wealthy people shop at Dover Street Market in Ginza and comes over here. So we promote brands to those with high sensitivity. We're a skate shop, but we don't target only skaters. I just want people to start skating. Fashion or music, it can be from anything. So we targeted people who are into fashion and naturally fashion magazines started featuring us.
V: There are tons of brands today. How do you know which brand would do well?
P: I think just looking at design doesn't work. The important thing is "who's behind the brand." Even though the design was cool, I think it will fizzle if no one knew who's behind it. So I need to know who's behind the brand. I imagine how I can push the brand to customers when I carry it. It has to be convincing. Even if the design isn't cool, I'd carry it if the story behind it is cool.
V: Then what kind of brands are selling recently?
P: That's a tough one... Brands with violent or manly image don't really do well anymore. It's more of brands with lighter design... I mean, I don't know if the brands would last long, but brands that have momentum will come up more. But as I said, those brands have to be convincing.
I'm always looking for NBDs.
V: What do you keep in mind when running a skate shop?
P: From when I started the shop, I've always wanted to do something that no one had done before. I'm not interested in price competition... I want to concentrate more on branding and promotion. That way I think I can build distinct Prime feel. I'm always looking for NBDs. And the website's Builder System happened to be the first in the world.
V: What do you think about the current state of skate shop?
P: I hear people say "Skateboards don't sell," but if you're trying to sell things that are not food, clothing and shelter, you can't just wait for customer to come to you. Even if the shop was famous and established, it's difficult to survive if you don't approach them. There are many people who want to start skateboarding, so I think it's important to actively approach them.
V: Where do you think the scene in Japan is headed?
P: I personally think skaters will increase and there will be more media exposure as the Olympics approaches. Corporations with massive financial resources might start selling skateboards. Anyone can make websites like ours if they have enough money. So considering that, small business like us needs to build firm ground or legit skate shops might not be able to survive in the near future.
V: What's the best thing about running a skate shop?
P: The fact that I got to know that there are so many people wanting to start skateboarding, and also that I'm surrounded with wonderful products. The fact that I can interact with customers. If it was an apparel shop, you probably don't go skating or drinking together with customers but I do. I like how we can get connected with customers so quickly.
V: So this is your third year. Any memorable project?
P: Most memorable was the skate event at Nihonbashi Mitsukoshi department store. It's the most historic and honored department store in the area and I'd never thought there would be a skate event at a place like that. It was beyond my imagination. And I was invited among all these respected people. Working with the late Otaki-san of T19 was a great memory for me. I think the event will continue!


V: Lastly, what can we expect from Prime in the near future?
P: Nothing is set yet, but we're planning to build a skate team. There was a reason for not having one in the first two years. I didn't want to make a team when the shop was not known and wanted to approach non-skaters first. The next step is to approach more to the skaters and in order to do so, it's best to build a team. Firstly, I'm welcoming a team manager that people will be surprised with. Heads up!
PRIME SKATEBOARD STORE
@prime_tokyo
Prime Skateboard Store opened in September 2015 in Tokyo Kanda. Coming up with world's first Builder System and rotating board display, releasing original quality boards and taking part in Nihonbashi Mitsukoshi events, Prime differentiates itself from other existing skate shops.
3-22-6 Uchi-Kanda, Chiyoda-ku, Tokyo 03-3525-8874 prime-skateboard.com