No one can be compared with the guy when it comes to going big on a skateboard. Check out the story of one of the bests pushing the limits, the one and only Chris Joslin.
──CHRIS JOSLIN (ENGLISH)
2018.07.21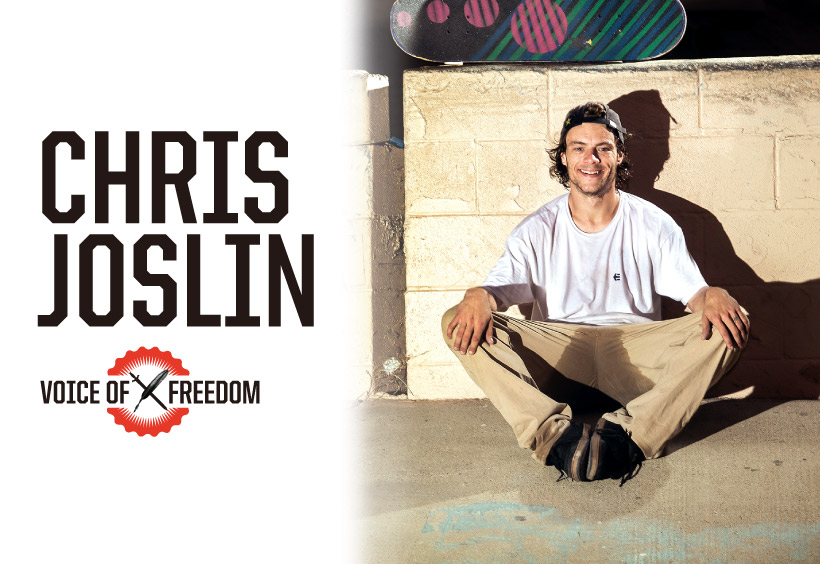 [ JAPANESE / ENGLISH ]
Interview by VHSMAG, Photo courtesy of Plan B, Special thanks: Charlie TRADING Inc.
I wouldn't "say" skateboarding saved my life, I know it did.
VHSMAG (V): How did you get into skating?
Chris Joslin (J): I got introduced to skating through family.
V: I heard that you had a rough childhood. Could you talk about it if you don't mind?
J: It's a long story. Long story short... my mom and dad were separated since birth, my mom used drugs prior to my birth and got sober right after when I was 3 months old, was sober for 3 years and moved in with my grandma and I to better our relationship. When I was 8 or 9 years old my dad passed away before I could meet him. Mom and Grandma continued to raise me the best they could with the help of my grandpa providing a roof over our heads. When I turned 18, I moved out with the woman who is my wife today, Julia Joslin.
V: How did skating affect your life?
J: Skateboarding affected my life for the better 100%.
V: It can sound cliche, but would you say skating saved your life?
J: I wouldn't "say" skateboarding saved my life, I know it did.
V: When was your tipping point as a skater?
J: My tipping point as a skater would probably be after the Plan B video "TRUE." came out, I'd say that was huge for my career.
V: How did you get hooked up with Plan B?
J: I got hooked up with Plan B through Deville Nunes (Powell Peralta TM). When I approached him about leaving Powell for Blind in 2012 because my friend Kevin Romar was willing to get me hooked up through them, Deville said "What do you think about Plan B?" I said "Yes PLEASE!" Haha.
V: What's the best thing about Plan B?
J: Best thing about Plan B, I'd have to say being able to skate with all the people I grew up being a huge fan of. It's still surreal to me.
V: How was peoples' reactions to your etnies' "album" part?
J: The reactions I got from my "album" part were really good. Not just about the skating but the way the whole video was put together. Mike Manzoori nails it!
etnies "album" part raw version.
V: Which trick from the part did you most struggle with?
J: My ender was a pretty good battle. Rolled my ankle after about an hour of trying then. I had to fly back to Germany to get it a year later. I was in Germany for Street League but had to take a train from Munich to Cologne. But it was well worth it.
V: Is there any kind of ritual you do when trying something gnarly?
J: No rituals, I usually try to get it done as quick as possible so my body isn't in too much pain. That's usually my main focus, and if it works out that way maybe even get to skate another spot that day.
V: We assume there are many skaters across the world that get inspired by your skating, going big. What do you wish to convey through your skating?
J: As do I watch all sorts of skaters to get inspired as well, and I guess to hopefully do what the ones before us did (Pat Duffy, Danny Way, etc.). Leave your mark in history.
V: Where do you think skating is headed? Do you think there is room for skating to get more gnarly?
J: Sky's the limit.
V: Where do you see yourself in 10 years?
J: In 10 years I'll be 32 doin' the same ol' thang I love, skateboarding and enjoying time with my family.
V: Any project in the works?
J: My etnies shoe just dropped and there's a part coming out.
V: Message to Japanese skaters?
J: Message to all skaters, keep having fun.
A mini documentary piece to commemorate Joslin's first signature shoe.
Chris Joslin
@chrisjoslin_
Born in Hawaiian Gardens, California, March 10, 1996. After going through rough childhood, he currently lives the life saved by skateboarding. His main video parts include Plan B's TRUE. and etnies' album.